Hello all,
I'm creating a script that automatically collects metadata such as display size, resolution, bit rate, etc… from MediaInfo and automatically puts the info that mkvpropedit doesn't have a parameter for, such as the bit rate of the audio/video stream, into an XML file according to the Matroska tagging standards.
They can be found here:
https://www.matroska.org/technical/tagging.html
My issue with this process is that I want the information about audio/video bit rate to be in separate XML files, and to be added to the respective track. I thought that simply using the command as specified in the documentation would be the right way about it, however, when I check the results, it seems that mkvpropedit has just placed it in the header/general section, and whatever info was written last, is what is retained.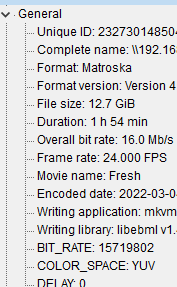 This is an example of info being written to the general header.
This how I'm using the command:
mkvpropedit --tags track:v1:
of course I change v to a when I want to add to the audio track.
Any ideas?
thanks.