ISSUE: MKVToolNix GUI v79 Windows 11 22H2 x64 in 2160p display resolution is missing the option to resize the "properties" box for HEIGHT.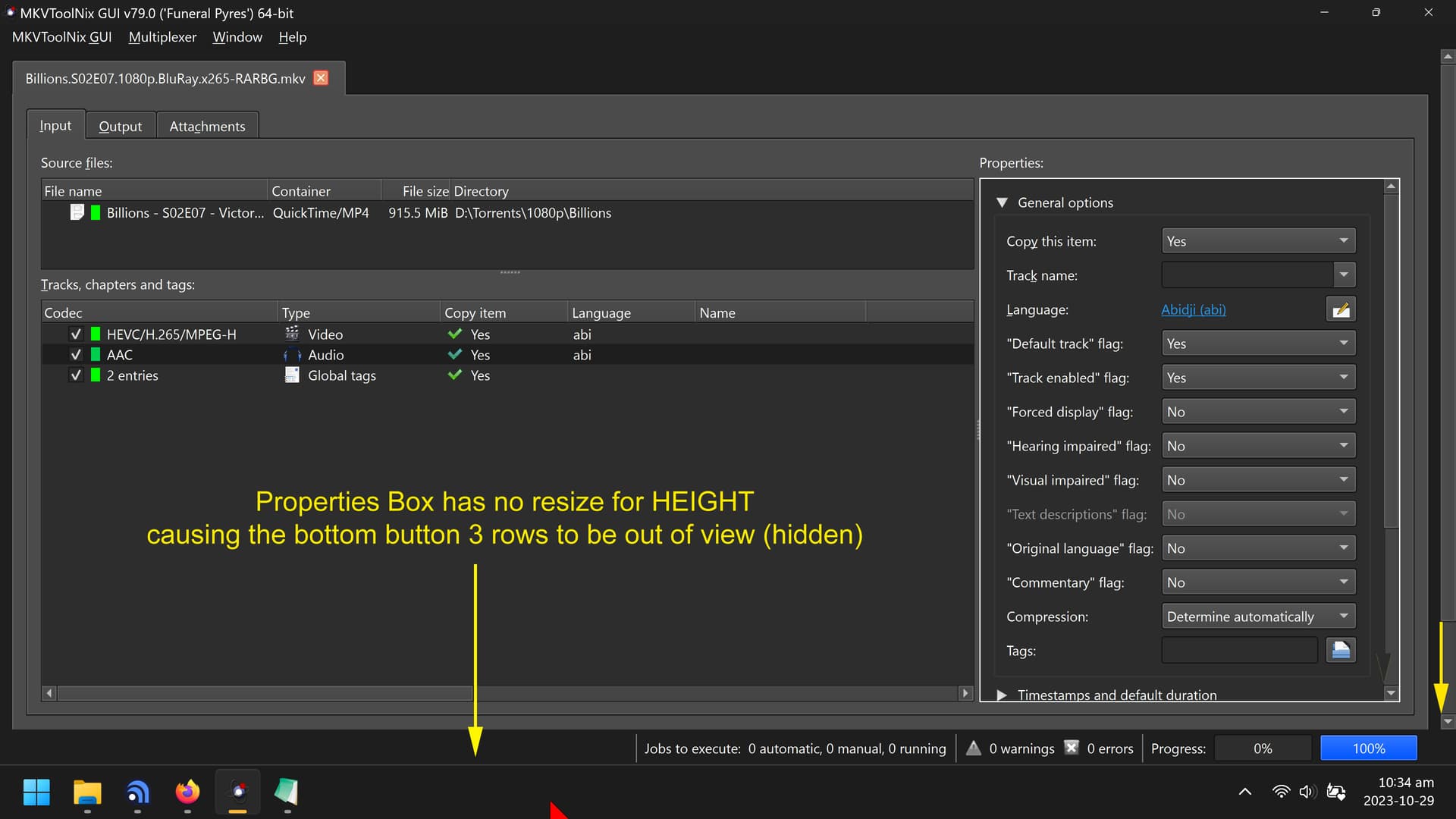 The option to resize for width is present and working. So, what happens here is without the ability to adjust the HEIGHT of this properties box, it causes the need to scroll the whole window up and down in order to see the top tab and bottom buttons of the window for it.
If the properties box was made a bit shorter in HEIGHT, that would resolve the issue.
Please don't get confused, the inside of the properties box also scrolls, and that works fine, no issues. It's just the properties box HEIGHT fills up more space than it should, forcing the need to scroll the whole window to see the top tabs (input, output, attachments) or bottom functions such as (start multiplexing button).
Is the properties box CSS, where it just needs a different settings to define the HEIGHT? How to adjust the HEIGHT of the properties box in the GUI?
If you look at the bottom of the GUI, you will see there is waste space, as there are two rows using the same words - destination file. The first row can be eliminated, the second is fine as it includes the location for it and buttons.
Eliminating the double wording, helps to remove the extra row, giving more room to see the bottom of the GUI window.
Without the ability to resize the HEIGHT of the properties box, the bottom view of the window is missing 3 rows! Just so you know. So the properties box should be reduce in height by 3 rows here.
This would greatly speed up production, without needing to scroll back and forth, up and down, just because the properties box is oversized without an adjustment for HEIGHT. I hope I was clear enough to explain, sorry for my English.